Gender Studies
EXPLORE GENDERED EXPERIENCES FROM A VARIETY OF PERSPECTIVES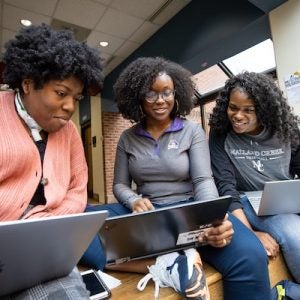 Learn to re-vision societal patterns, especially those leading to prejudice, and explore new frameworks from which to analyze contemporary issues. The Gender Studies minor is designed to add value to any major—helping you meet personal and career goals through interdisciplinary study emphasizing critical thinking and social consciousness. Knowledge of cultural and gender diversity is crucial to students looking for careers in human services, health and wellness professions, national and international business, and human resources.
---
---
MINOR IN GENDER STUDIES
The Gender Studies Program is an interdisciplinary minor administered in the Department of Sociology that supports an active network of scholars interested in gender issues.
The minor is designed to complement and enrich students' work in their major fields of study. Our flexible, schedule-friendly 18-credit hour program consists of 6 credits of core coursework and 12 credits of electives.
Please make an appointment with Susan Pearce:
---
GENDER TO A TEA
This monthly roundtable series highlights ECU's gender-focused research. Not just another lecture, presenters and attendees engage in robust, two-way discussions about important ongoing, unpublished research.